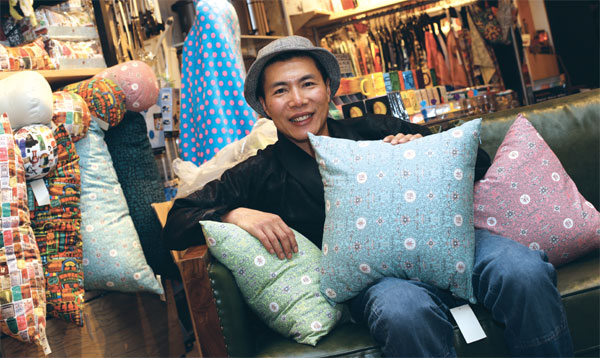 BY MING YEUNG
Douglas Young's signature line of products is manifest with his passion for HK nostalgia, with a fistful of slangs and sexual innuendos thrown in, for good measure. Ming Yeung met the designer who is not afraid to shatter a taboo or two.
You may not know Douglas Young, CEO and co-founder of Goods of Desire, but you would probably recognize some of the bold slogans he puts on his merchandise. Take, for example, "Delay No More" - a tongue-in-cheek-profanity and homonym of a colloquial Cantonese expression that either makes you roll your eyes or laugh out loud, if you know what it means.
Young's intention is to shatter taboos and challenge conventional thinking. And he reckons "Delay No More" suits the Hong Kong scenario as people here are humorous, highly-efficient and can't stand delay.
Young's whimsical and sexually-explicit designs drew criticisms from the conservative sections. People have found his work racist and homophobic, although Young never meant to offend anyone.
"I like to make a statement. Sometimes I like to be loud, sometimes I like to be soft. Not everything that I do is necessarily loud. Sometimes I add a little bit of spice, otherwise everything is bland," pronounces Young.
The G.O.D. store is a perfect combination of loud and soft products. There are common tableware and home accessories, and again there are funky boxer shorts with old-style black-and-white newspaper advertisement prints. Look closely and you'll locate colloquial Cantonese, often sexually-suggestive, slangs in them.
"I think taboos should be broken. Not talking taboos doesn't mean bad things don't exist. A bad thing, when made fun of, perhaps isn't so bad anymore. If we don't accept 'Delay No More' as a part of Hong Kong, then we are being hypocritical," he says.
Humor is the key
Young studied in the UK since he was 14, training as an architect at Sheffield University and the Architectural Association in the UK. Young calls himself a half "gwei lo" (foreigner) who sees local culture from a fresh angle, injects life and meaning to local stuff that no one seems to notice in the first place.
Before he left for the UK, Young didn't consider Hong Kong culture all that special. "When you live in Hong Kong all your life, you assume that the rest of the world is the same. When I left Hong Kong and saw more of this world, I realized Hong Kong was actually a very special place."
He thinks architecture is a very versatile discipline and what he does today is similar to architecture in terms of style and aesthetics but has more to do with functionality. "What I design has to be worn or used. It has to be functional and economical because people have to be able to afford it," he tells China Daily. "I still feel like I'm an architect, only the materials I deal with are fabrics, glass etc Essentially the thinking is the same."
Young looks for a sense of humor in his design team members, when he's recruiting. Those who detect fun and meaningfulness in everyday objects get along well with him, he says. And he encourages his colleagues to push their limits, even if those efforts do not always lead to a success.
"As a creative person, you want to have adventure, you want to experiment with the unknown. It's exciting," he smiles.
His latest showroom, literally a stone's throw away from G.O.D.'s original flagship store, a two-story, 40,000-square-foot space in Causeway Bay, signifies a successful comeback for Young. The first ceased to operate when Young was unable to cope with the skyrocketing rents.
The G.O.D. stores are easily recognizable from the images conjuring up 1950s Hong Kong - prints of old-style newspapers, mail boxes from tong lau (19th-century tenement buildings), red lamps typical of wet markets, and even spittoons serve as inspirations for Young who has transformed these into trendy souvenirs that tourists like to take back home.
Young says he likes to take his time over creating a design. "Design is an art. You cannot calculate, you cannot put numbers to it. It's very abstract." But then there's also a market and its demands he needs to meet. "I always believe that my next design is going to be my best. But if you wait until you perfect it, it will take forever."
Tibetan clothes with a twist
His latest endeavor is a fashion line - a collection inspired by Tibetan clothes that adds a modern touch to traditional costume.
The black satin jacket he has on at this interview was originally designed for Ann Hui, one of Hong Kong's best-known film directors. Hui wore it to the awards ceremony at Venice Film Festival in 2014.
Young kept the cut of the Lama costume that inspired the dress, but changed the fabric to give it a tuxedo feel, making it suitable for both casual and formal wear.
Launched in 1996 with his business partner Benjamin Lau, G.O.D. evolved from a furniture shop in Ap Lei Chau to a iconic and edgy lifestyle brand, arguably the only one that truly represents Hong Kong culture.
There are six G.O.D. stores in Hong Kong and one in Singapore. The range of merchandise has expanded. Household appliances, accessories, clothing and even pastries come with a mark of this coveted brand, whose designs can also be found in department stores such as Bloomingdale's in New York and Selfridges in London.
What is Hong Kong culture anyway? Young says it's a hybrid culture - a mixture of the East and West. Usually what came from the West would be internalized by the locals who would turn it into something new. While many others see Hong Kong culture as neither fish, flesh nor fowl, Young finds beauty in them.
It is such a shame, Young reckons, that Hong Kong people don't respect their own culture, often taking Western culture to be superior.
Surviving the trials
In 2007, Young designed a T-shirt bearing the logo of 14K, suggesting 14-karat gold. But the name happened to match that of a local triad and that got the nerve of the police. They raided the outlets, confiscating all the shirts bearing this logo.
Young was unfazed. "Life is what you make of it. It could have been a disaster for us but turned out to be a good opportunity," he says. The incident drew considerable media attention. People who hadn't heard of G.O.D. were now curious to find out what the controversy was all about.
On the other hand, the incident brought Hong Kong's conservative, narrow-minded aspect to the fore, which was quite at odds with the local government's idea of projecting the city as a centre of creative excellence and innovative thinking. Being open-minded is absolutely essential to achieve that end, feels Young.
He wonders why no one thought of developing a brand embodying the spirit of Hong Kong before him. Part of the reason could be attributed to the lack of government support, Young reckons. The funds set up to support artists and foster the local creative industry are, at the end of the day, not accessible to people with no money. While many creative start-ups could do with financial support in the very beginning, ironically, they would be eligible to apply for funds only after the brand was soundly established.
Among other obstacles faced by young, creative people is a lack of space. Young suggests renting out the vacant spaces in Hong Kong's many industrial buildings to artists and designers at a reasonable rate.
Involving young designers in government projects could be another way of nurturing fresh talent. Hong Kong, in this regard, could learn from Taiwan which has put a lot of emphasis on helping the cultural industry, says Young.
He feels people in the cultural industry like him have to cope with one of the toughest business environments ever - having to compete with multinational conglomerates, catering to affluent mainland tourists.
"This is the most challenging time we've ever faced," says Young. But the optimist in him is positive that one day Hong Kong's people will be more aware of their identity and say it out loud with pride.
Contact the writer at mingyeung@chinadailyhk.com
Click here for the full article.